Our world is full of wonders and a lot of places that are yet to be discovered. But we should be glad that we are blessed with a lot of travellers and explorers who click pretty perfect pictures with their expensive cameras. Different geographical locations, climatic conditions and even seasons offer a variety of natural wonders that make us question their existence.
Pink lakes, beach, flowery fields, snow studded breathtaking mountains and all the other places that are hard to imagine; this list of destinations will take you on a ride to all the lesser known far away places.
1.) 

Iguazu Falls from both Argentina and Brazil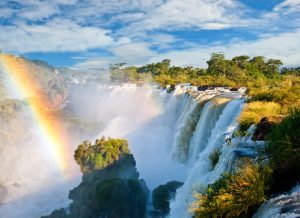 Who wouldn't love to take a picture here or just take in all the prettiness?
2.) Maldives
The topical nation in the Indian Ocean, unrivalled luxury and stunning white sand beaches. Would miss this place?
3.) Camping somewhere in the Amazon rainforest.
The evergreen forest, the one that nurtures all things beautiful is a bliss to your traveller's soul.
4.) 

Hardanger Fjord in Norway
The fourth largest Fjord in the world has been an important tourist location since the 19th century.
5.) 

Hike in Jiuzhaigou Valley National Park in China
Pack your bags asap because this place is so cool and the water is clear as crystal.
[nextpage]
6.) The city of Antigua
An island in the West Indies which is a treasure where life is a beach and you can soak in all the sun.
7.) Snorkelling in Giant Barrier Reef
The world's largest coral reef system is one of the seven wonders of the world. There is nothing that can match up to this experience.
8.) The view of Mount Fiji
Who doesn't know Fiji? It is a blessing from the almighty to have 333 tropical islands in the heart of the South Pacific. It is a home of happiness.
9.) Hiking the Narrows in Utah Zion National Park
Located in the Southwestern United States, near Springdale, Utah, this place gives you a gaze up at massive sandstone cliffs of cream, pink, and red.
10.) Hiking up to Bellanda Tower, France
A tower perfect for panoramic views and a hub for photographers. You need to have this in your bucket list!
[nextpage]
11.) Tunnel of love, Ukraine
For those who are head over heels in love, this place is for you. Go visit this with your better half and soak in some love.
12.) Tulip fields, Netherlands
Tulip bulbs are a typical sight. You will fall in love with this place and its expanse. Don't miss visiting the fields at the end of April.
13.) Salar De Uyuni: Largest Mirrors, Bolivia
Love to see yourself in a mirror? What better than a 4,000 square mile patch of salt flats?
14.) Hitachi Seaside Park, Japan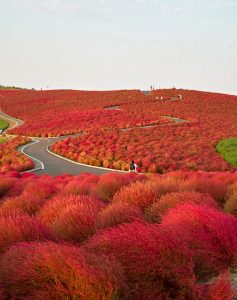 Blooming nemophilas painting the hillside is a soul quenching place.
15.) The Red Beach, China
No, it is not a sandy beach but is a reed covered wetland. Who wouldn't like to visit a beach that breaks all stereotypes?
[nextpage]
16.) Black Forest, Germany
Heard about the Brother Grimms fairytale? Wish to visit there? This is your place.
17.) Tianzi Mountains, China
Tianzi, the son of heaven, the mountain is one of the four scenic spots in Wulingyuan. It provides a stunning view of the peaks and is known as the Monarch of the Peak Forest.
So, what do you think? Which one of these will you visit first?